Περιγραφή
The Vectric VCarve Desktop Edition is specifically designed for small CNC machines typically aimed at hobby or non-production 'maker' environments. They include all of the non-production drawing, editing and toolpathing features.
VCarve Desktop provide a powerful but intuitive software solution for cutting parts on a CNC Router. There are tools for 2D design and calculation of 2D and 2.5D toolpaths and along with the ability to import and toolpath a single 3D model (STL, OBJ, etc.). There is also support to import multiple Vectric Clip Art 3D models (V3M) to create 3D assemblies.
The software can import 2D designs from other programs but also provides a full set of drawing and editing tools. The toolpath options cover all typical 2D routing operations such as Profiling, Pocketing, Auto-Inlays, and Drilling as well as 2.5D strategies such as V-Carving, Prism carving, Fluting and even a decorative Texturing strategy. For 3D you can Rough and Finish the model and there are options to project 2D and 2.5D tool paths onto the 3D surface.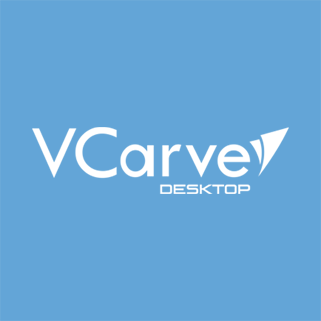 Features
Complete set of 2D design and layout tools
Layer control, guide lines, snap grid
Text Editing + Single Line Engraving Fonts
File Import – DWG, DXF, EPS, AI, PDF
Image File Import – BMP, JPG, TIF, GIF
Vectorize images to create vectors for machining
Robust V-Carving
Raising 3D Prism Machining
Auto-inlays with multiple options
3D Random Texturing Toolpath
2D Profiling with Interactive Tabs / Bridges, Lead, and Ramp options
Pocketing with optimization for 2 cutters
Drilling with option for Peck Drilling
Beveled Letters
Custom Molding and Form Cutters
Multi-color Toolpath Previews
IMPORTANT: VCarve Desktop is designed for small machines with a maximum bed-size area of 24″ x 24″ or 600mm x 600mm